Unique Victorian Armchair in Collaboration with Narrative Artist Sarah Sharpe
The Unique Seat Company began a collaboration with local narrative artist, Sarah Sharpe several years ago. Sarah agreed to let us use several of her images and print them onto a velvet base cloth to then convert into unique, statement items of furniture and limited edition cushions. After years (literally) of searching for the perfect chair for one of Sarah's images, we finally found one which was worthy of the image which has resulted in this truly unique Victorian armchair.
We used Sarah's image on the inside back of the chair as we wanted it to resemble an oval Victorian portrait. We then highlighted the image by placing a navy blue double piping braid around the edge. The same double piping was repeated on the arms, seat and back of the chair, framing the navy blue Linwood Omega velvet.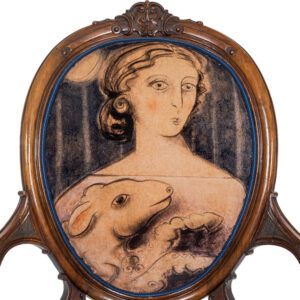 The gorgeous, unique Victorian armchair is a completely one-off, original piece, not to be repeated. To view full details of this unique chair click here.
You can find out more about Sarah and her work by visiting her website www.sarahsharpe-art.co.uk
Our other items which showcase Sarah's work are a one-off, four fold dressing screen and three different, limited edition cushions. These can be found under Collaborations with UK Artists.